SEPARATION AGREEMENTS
Separation Agreements deal with rights and obligations arising from a relationship and its breakdown. We can explain what your rights and obligations are at the end of your relationship and help you negotiate the terms of a Separation Agreement.
MARRIAGE CONTRACTS
A Marriage Contract may deal with ownership or division of property; support obligations; the right to direct the education and moral training of your children; and other matters in the settlement of the parties'affairs. 
A Marriage Contract can not deal with custody or access to children. We can help you draft a Marriage Contract or review the terms of a Marriage Contract and provide you with an opinion. 
UNCONTESTED DIVORCE
Either or both spouses may seek a divorce if they  have been living separate and apart for at least one year. A spouse may also seek a divorce if his or her spouse committed adultery or treated him/her with such physical or mental cruelty as to render intolerable their continued cohabitation. We can help you obtain a Divorce Order and Certificate of Divorce if required. To obtain more information about the divorce process click here.
PROPERTY DIVISION
When spouses divorce or separate, their property is to be divided according to a complex regime set out by law. The growth of each spouse's net worth during the marriage must be calculated and the spouse with the greater net growth, must pay the other spouse half the difference between their respective net worth growth. If you are the payor, we can help ensure that you do not pay more than you have to. If you are the payee, we help ensure that you do not receive less than you should.  
CHILD SUPPORT
The amount of child support that must be paid in a particular case is based on the number of children and the payor's income. The children's residential arrangement will help determine who is to pay child support. A payor may also be required to pay for special and extraordinary expenses in addition to child support. We can help you calculate the amounts that are to be paid or received and to ensure that these amounts are actually paid.  
SPOUSAL SUPPORT
In order to determine if a party is entitled to spousal support, we need to look at the length of the relationship, the parties' financial circumstances, and the roles they fulfilled during the relationship. We can help you calculate the amounts that are to be paid or received and to ensure that these amounts are actually paid.  
WILLS AND POWERS OF ATTORNEY
A Will is a legal document that specifies who will manage and inherit your property when you die. If you do not have a Will, a court will determine who will manage your property, which will be divided according to a standard set of rules. A Power of Attorney is a legal document that gives another person the power to make decisions on your behalf. If you become mentally incapable to make decisions regarding your property or personal care and you do not have Powers of Attorney, a court will need to decide who can make these decisions for you. Going to court can be expensive and take time. Instead, we can draft a Will and Powers of Attorney for you in a few days at an affordable price. 
IMMIGRATION
We currently offer assistance with the following services:

– Family Sponsorship Applications
– Permanent Residence Applications
– Citizenship Applications
– Study Permits
– Work Permits
– Visitor Visas

To obtain more information about our immigration services please click here.

To obtain information about our NOTARY services please click here.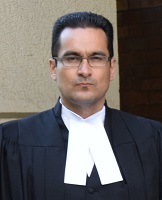 EDGAR RAMOS
Barrister, Solicitor & Notary Public
Edgar Ramos, B.A. (Hons), J.D.
Edgar is a lawyer licensed in the province of Ontario who owns and operates Bonilla Legal Services.
Edgar earned his J.D. from the University of Ottawa, Faculty of Law, and graduated Summa Cum Laude from York University, where he double majored in Psychology and Criminology.
Throughout law school, as well as his articles, Edgar focused primarily in family law and developed an excellent understanding of its practical and theoretical aspects.
Edgar is fluent in English and Spanish and is committed to completing your matter in an efficient manner.


Email us: info@bonillalegalservices.ca
Location: 20 Jane Street, Unit G
Toronto, Ontario, M6S 3Y2